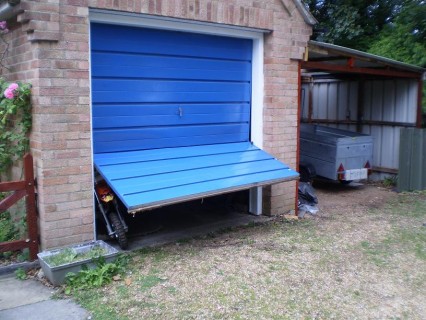 In the summer of 2013, Riverside police closed more than 40 burglary cases with just two arrests. The Riverside police accused one of the suspects with using garage doors as a point of entry into the homes he burglarized.
http://www.rblandmark.com/News/Articles/7-22-2013/Riverside-arrests-clear-more-than-40-burglaries/
Garages and garage doors have always been a point of weakness with home security. Frequently homeowners overlook the garage as a point of entry or a location of storing valuables. Thieves, however, have been using this weak point for decades.
First, use a code-rotating garage-door opener. With over a billion possible codes on perpetual rotation, no thief will be able to use an opener clone to gain access to your home. Thanks to the size of technology today, you no longer need to store the garage door opener on the visor in your car. Put it on your key chain. With a garage door opener on your visor, a good thief will break into your car while it's in public, steal your garage door opener, and take note of your address on your insurance card. By the time you get home, your house will be cleared of all valuables.
Next, obscure the windows in your garage. If a thief can see that your car is gone, he'll know he can break into the house.
Lastly, secure the door between the garage and the house. Use a heavy door with a deadbolt between the garage and the house. If you don't want to use a key every time you enter the house through the garage, use an electric lock with a fob or code to gain access. Add a wide angle peephole. If you hear a strange noise in the garage, it's better to see the problem with a sturdy door standing in the way.
While most people focus on securing access to their home through the front door, most thieves will enter a house through the back door or garage. With a bit of technology and some common sense, you can prevent burglaries through your garage.