The PC2550 combines leading-edge technology with classically elegant design.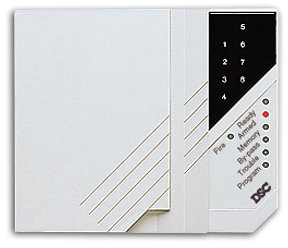 The PC2550 achieves a level of performance and a simplicity-of-use that is unmatched by anything else in its class. In addition to its exceptionally broad range of state-of-the-art features, the PC2550 offers a wide variety of  options and choice of keypads, allowing complete flexibility for all commercial or residential installations. The PC2550: Proven reliability, worry free protection and increased peace of mind.

PC2550 user manual (186 KB)

PDFPC2550 FAQ Document (30 KB)
Fast Key Operation:
State-of-the-art technology lets you operate the system automatically or with just a few key strokes. Includes such features as Auto Arming, Auto Bypass, Quick Arm and Quick Exit.
Escort Voice Assisted Telephone Control:
Turn any touch tone phone into a fully functional keypad. Whether used to serve as a system keypad in the premises or to keep in touch from the other side of the world, Escort offers the easiest way to control and communicate with your security system.
Emergency Keys:
The three emergency keys let you instantly call for help. When enabled, you just press and hold for 2 seconds to send signals for fire, police or emergency assistance.
Remote Service:
Upload/Download support software is maintained by the installer to allow him or her to troubleshoot or modify your system via telephone should the need ever arise. On site service calls are minimized.
Large Message Display:
When you choose the optional Message Keypad, the screen tells you everything you need to know, in plain language, in 2 lines of big, back lit words that are easy to read in all lighting conditions.
Back-Lit, Sure Touch Keys:
The large, comfortably shaped keys respond positively to your touch, emitting a soft beep when pressed. And their soft, back-lit glow greatly aids accuracy and makes night-time entries much easier.
Internal Supervision
Continuous self diagnostic supervision includes an impressive list of features:
'System' or 'Trouble' indication of equipment and wiring faults.
Siren circuit supervision.
Telephone line monitor.
In addition, the Alarm Memory feature will provide a history of which zones were activated by an alarm while your system was armed.
2 Partitioned System:
The protection of two systems in one package. With the ability to treat keypads, detection circuits and alarm response separately, this system is the perfect answer to multi-family dwellings, multi-division businesses and special protection requirements.
Additional Features
8 fully programmable supervised zones.
2 partitions with two programmable telephone numbers and account codes.
3 keypad activated zones.
~1 supervised fire zone
~1 auxiliary (panic) zone
~3 keypad activate emergency zones